Yasmeen Badawi

Branch:
Ekaterina
Age:
Unknown
Relationships:
Unknown
First Appears In:
None
Last Appears In:
None
Yasmeen Badawi
is an
Ekaterina
agent who lives in Maati, Egypt.
History
Yasmeen won a robotics competion in the Pets division, which Bae Oh took notice of. She is now assigned with the task of building lava-resistant robots. Her mother was also killed by the Lucians, so Yasmmen dreams of being a great Clue hunter like her mother.
Personality
Yasmeen is eager to please the Ekaterina leadership and is a rising star in the branch.
Appearances
She does not appear, but a robotic dog that she presumably built is used.
Talents
Online
Yasmeen's robot dog appears in Mission 8. She also has a CliqueMe page.
Card
Yasmeen's main card is Card 97.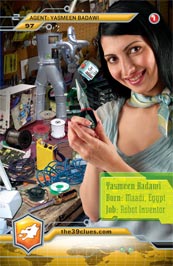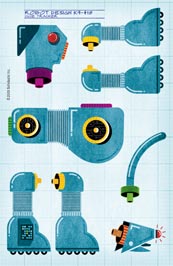 Ad blocker interference detected!
Wikia is a free-to-use site that makes money from advertising. We have a modified experience for viewers using ad blockers

Wikia is not accessible if you've made further modifications. Remove the custom ad blocker rule(s) and the page will load as expected.